Dosage Form
Solution for injection in pre-filled syringe
Strength
250 mg
Strength per Unit
250 mg/5 ml
ATC Code
L02BA03
Drug Class
Endocrine therapy
Indication
Fulvestrant EVER Pharma in indicated:
as monotherapy for the treatment of estrogen receptor positive, locally advanced or metastatic
breast cancer in postmenopausal women:
– not previously treated with endocrine therapy, or
– with disease relapse on or after adjuvant antiestrogen therapy, or disease progression on
antiestrogen therapy.
in combination with palbociclib for the treatment of hormone receptor (HR)-positive, human
epidermal growth factor receptor 2 (HER2)-negative locally advanced or metastatic breast
cancer in women who have received prior endocrine therapy (see section 5.1).
In pre- or perimenopausal women, the combination treatment with palbociclib should be
combined with a luteinizing hormone releasing hormone (LHRH) agonist.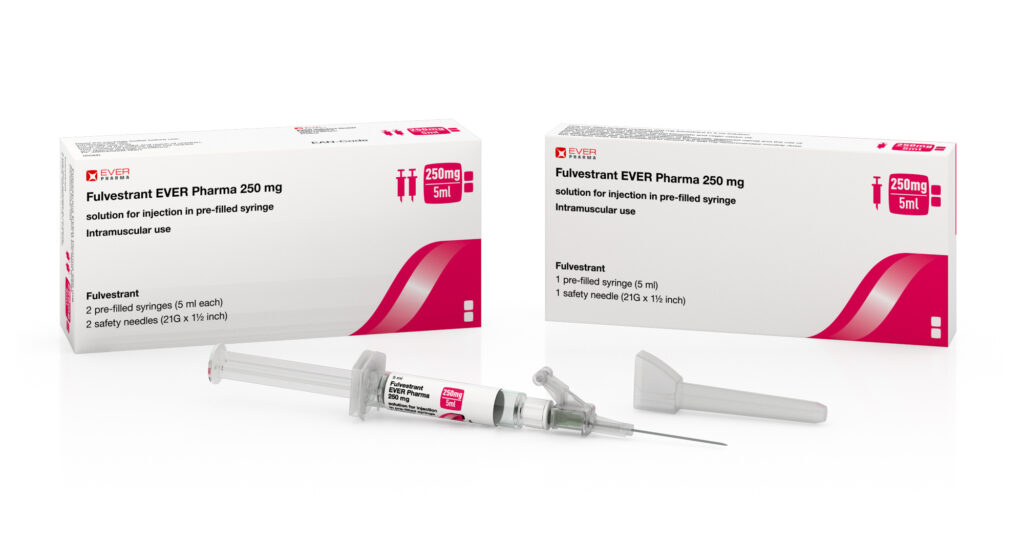 Fulvestrant EVER Pharma is a prescription medication. Information for healthcare professionals only.
See the Summary of Product Characteristics for full information about the medication.