Our Capabilities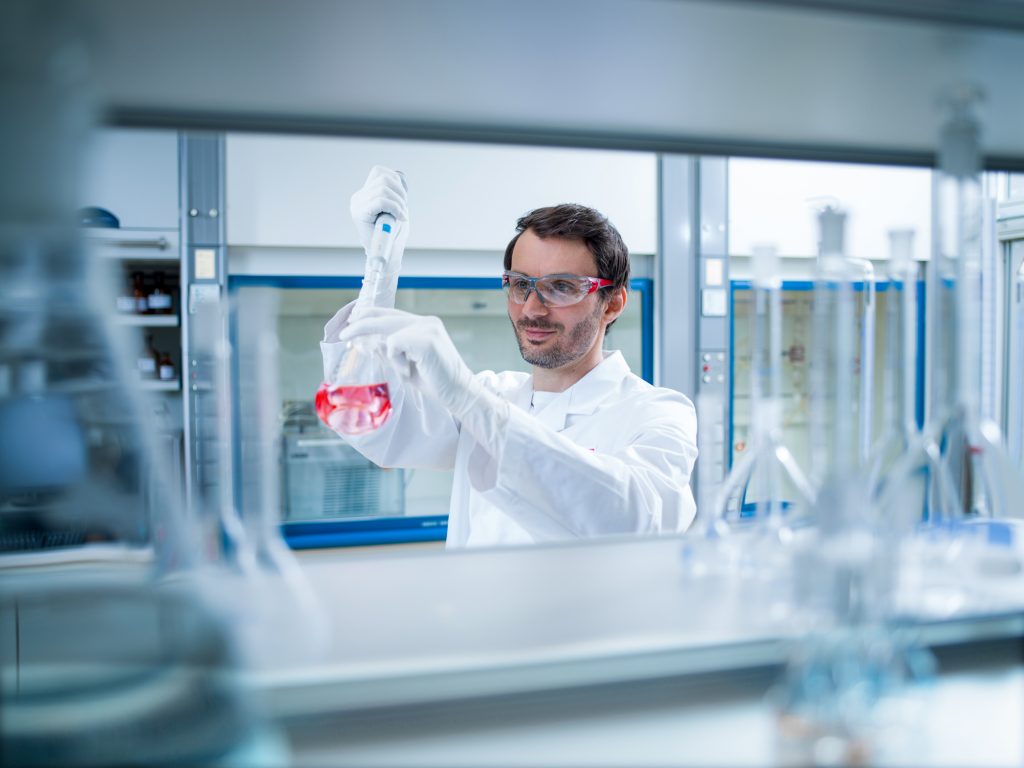 Research & Development
The EVER Group attaches particular importance to research and development. Through our in-house R&D expertise, we bring specialized therapeutic solutions to market that support healthcare systems around the world.
Our goal is to provide physicians with the optimal preparation and therapy concept to ensure the best possible treatment for patients.
EVER Pharma has more than 30 years of experience and know-how in the field of neuroscientific research with a clear focus on neurodegenerative and cerebrovascular diseases. Our own research facilities and collaborations with international research institutes ensure the successful further development of our product portfolio.
Our R&D capabilities are focuesd on five areas:
Preclinical research
Pharmaceutical development
Medical device development
Clinical development
Regulatory affairs
Production
EVER Pharma combines experience from over 60 years of sterile production with innovative know-how and high-quality manufacturing technology. Our GMP-compliant production facility in Jena, Germany, produces more than 400 different finished medicinal products.
We manufacture and pack high-quality complex injectables including high potency and controlled substances, crystal suspensions, as well as oily solutions in vials, pre-filled syringes, cartridges, implants, and ampoules are produced for the supply of EVER Pharma's products around the world as well as third party customers.
Our facilities can handle sterile hormone synthesis in suspension, oily solutions, cytotoxics, and controlled substances.
All products are manufactured under clean room conditions according to EU-GMP guidelines or country-specific quality requirements. EVER Pharma is certified according to EU GMP requirements as well as ISO 13485, ISO 16247, ISO 14001, EU-GMP, GCC (MENA), CFDA (China), ANVISA (Brazil), RU-GMP, and PDMA (Japan).
We are specialized in the manufacture of complex, injectable substances with a special focus on:
Handling of highly active substances (e.g. narcotics, hormones, cytotoxics)
Low-oxygen formulations
Crystal suspensions
Oily solutions
We also offer our customers support for development, regulation, production, and testing:
Validation, analytical services, and clinical batch manufacturing
Commercial manufacture of sterile dosage forms
Secondary packaging and storage
Optimization of formulations and processes
Analytical testing of sterile dosage forms
Stability test
Technical advice
Production capacities
Up to 130 million units / year
Pre-filled syringes
Pre-filled syringe sizes: 1, 2, 3 and 5 ml (glass or plastic)
Vials
Vial sizes: 2, 5, 10, 20 and 50 ml
Ampoule
Ampoule sizes: 1, 2, 3, 5, 10, 12, 15, 20 and 25 ml
Inspection
Automatic inspection lines for ampoules
Semi-automatic and manual visual inspection of vials and pre-filled syringes
Packaging
Automtaic packaging lines
Semi-automatic packaging line for vials and pre-filled syringes
Inline serialization
Storage capacities
Up to 5,500 pallets
Number of employees
Approx. 400
Official certifications
ISO 13485, ISO 16247, ISO 14001, EU-GMP, GCC (MENA), CFDA (China), ANVISA (Brazil), RU-GMP, PDMA (Japan)
Commercialization
EVER Pharma has a global marketing reach and sells its products in over 70 countries worldwide. Our international network of over 25 wholly owned affiliates, together with our strategic partners, provides both a broad geographical footprint and local marketing expertise.
This enables EVER Pharma to locally support patients and customers and react quickly to the changing dynamics of individual markets.