EVER Pharma receives EU marketing authorization for Azacitidine including a novel presentation to enhance handling efficiency
EVER Pharma is pleased to announce the grant of an EU-wide marketing authorization of Azacitidine for the treatment of patients with myelodysplastic syndromes, chronic myelomonocytic leukemia, and acute myeloid leukemia1.
Azacitidine EVER Pharma is available in the standard 100 mg vial size and a new 150 mg vial aimed at enhancing handling efficiency.
Azacitidine has become a critical medication in the treatment of myelodysplastic syndromes, providing improved quality of life and overall survival in treated patients. The global market is estimated to be around USD$760m.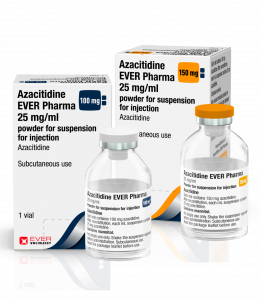 The poor stability of liquid Azacitidine once reconstituted from powder often results in leftover product being discarded if not be used immediately. With the average patient dose being less than 150 mg, it is often necessary to use two of the commonly available 100 mg vials to administer one patient dose leading to a potential wastage of as much as two thirds of the second vial. The newly introduced 150 mg vial size by EVER Pharma provides a patient dose that significantly minimizes the potential for wastage and reduces valuable preparation time.
"We are pleased to add Azacitidine to our expanding portfolio of innovative EVER products that improve patient access to cancer therapies. With the global use of Azacitidine growing at over 20% per annum, EVER now offers patients and healthcare professionals a cost-effective product and a novel value-add presentation designed to minimize preparation time and costly wastage" said Georges Kahwati, General Manager of EVER Pharma.
Azacitidine is EVER Pharma's third oncology product to gain European registration in the last 6 months and follows the recent approvals of Cabazitaxel and Pemetrexed. EVER will launch the product in Europe and in other selected countries worldwide.
1 Azactidine EVER Pharma is indicated for the treatment of adult patients who are not eligible for haematopoietic stem cell transplantation (HSCT) with: (i) intermediate-2 and high-risk myelodysplastic syndromes (MDS) according to the International Prognostic Scoring System (IPSS), (ii) chronic myelomonocytic leukemia (CMML) with 10 – 29% marrow blasts without myeloproliferative disorder, (iii) acute myeloid leukemia (AML) with 20 – 30% blasts and multi-lineage dysplasia, according to World Health Organization (WHO) classification, (iv) AML with >30 % marrow blasts according to the WHO classification.